February 16 – April 15, 2023: The Mind's Eye
---
---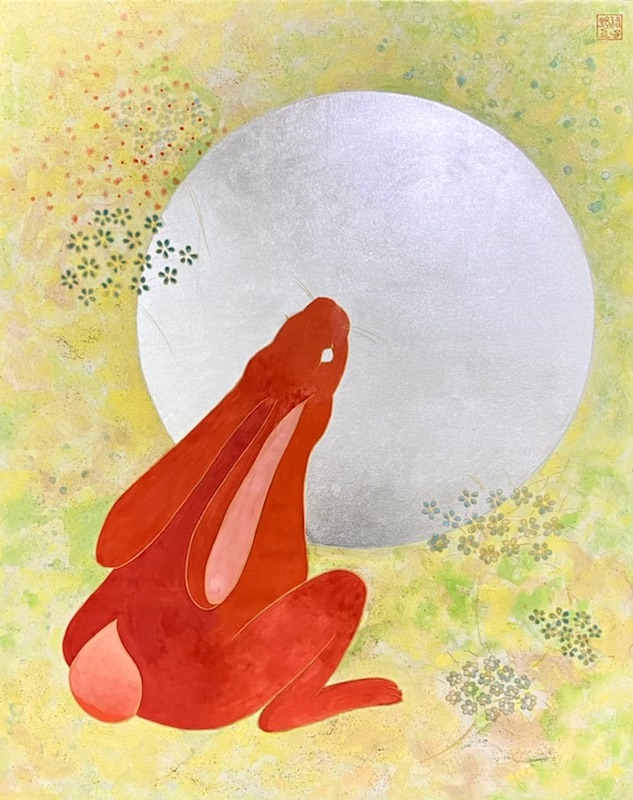 ---
RABBIT
artwork by Yuko Nogami Taylor
natural pigments and dye adhered to paper with Nikawa glue. Silver foil is used for an accent and the work is mounted on a wood cradle.
---
5 Points Gallery celebrates cleverness in the Year of the Rabbit with our new exhibit called "The Mind's Eye". Fresh from the imaginations of our artists, we present works that promise to delight and captivate you. This exhibition runs from February 16 through April 15, 2023. Please join us for our upcoming Third Friday Reception on Friday March 17, 2023, from 6 – 9pm. Meet our Triangle-based artists and view their latest works in a range of media including painting, sculpture, fused glass, and mixed media.
Visit 5 Points Gallery in person or online from your home, and shop on our website. All work from this exhibition can be shipped or picked up at the gallery. Our current hours are Thursdays and Fridays 4 – 8pm and Saturdays, 12 – 8pm. Artists are on hand to talk to you about the works. You may also schedule an in-person viewing by private appointment at your convenience by contacting us at info@5pointsgallery.com.
---
---
---
---
5 Points Gallery (@5points_gallery) on Instagram
---